In the early 1920's, a small but prominent and influential group of businessmen from Batavia and LeRoy, NY, took the first major step towards fulfilling their vision of a first-class country club for Genesee County. After careful consideration, they acquired several acres of rolling farmland bordering Black Creek in the small hamlet of Stafford, deemed ideal for a first-rate 18-hole golf course. In short order, they brought the esteemed golf course designer, Walter J. Travis, to inspect the site and commissioned him to design a "second to none" course.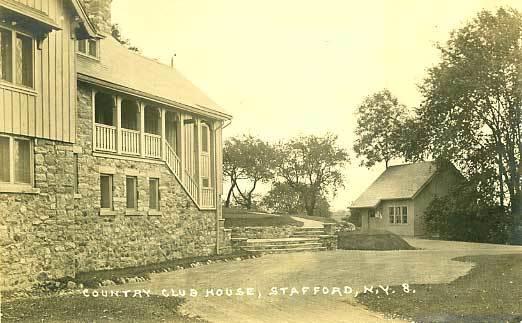 At the time, Travis was one of the most respected and sought-after golf course designers in the country. His reputation was based on his work at Ekwanok Country Club in Vermont, Garden City Golf Club on Long Island, Hollywood Golf Club in New Jersey, his three courses at Westchester Country Club, and others. Travis was no stranger in Western New York. He was widely acclaimed for his redesign of the Country Club of Buffalo course, enabling the club to host the 1912 U.S. Open Championship. Soon after, the Park Club of Buffalo enlisted him to design their new course in Orchard Park.
During the summer of 1921, Travis made several trips to Stafford from his home in Garden City, LI, in order to oversee the construction of the first nine holes (now played as the back nine). When the first nine holes were completed, Travis wrote the club, stating, "There are several superb holes, unsurpassed anywhere, and with not a single weak one in the whole bunch. All in all, I am proud of the whole thing----."
In October, 1921, during his first visit to Stafford, Walter Hagen declared the course "second to none, and worthy of the interest of its members for years to come". Subsequent visits by professionals such as Gene Sarazen, Arnold Palmer, Tom Watson, and Julie Inkster brought similar acclaim.
Over the years, there have been few alterations to the original Travis course. In the early 1930's, minor renovations were completed under the direction of noted architects Robert Trent Jones and Stanley Thompson. A golf course master plan was developed in the late 1990's in order to assure that improvements to the course adhered to the character of the classic Travis design. Implementation of the master plan began in 1999 with a complete bunker restoration and renovation.
Stafford has hosted numerous top-level golf tournaments through the years, including both Men's and Women's New York State Amateur Championships, the New York State Senior Men's Championship, and the Rochester District Men's and Women's Championships. These events, and others, have established a reputation for the course that is a source of great pride for each Stafford Country Club member.
A favorite clubhouse activity for members on warm summer days is to relax on the covered patios with friends, food, and drink, while watching fellow golfers complete their rounds. Travis showed great foresight when he insisted that the clubhouse be located on the ridge overlooking the 18th hole.
Over eighty years later, Hagen's pronouncement holds true. The founding members' vision has been realized and carefully nurtured throughout the years. With the quiet beauty of its rural farmland setting, Stafford Country Club offers a rich and varied source of recreational and social pleasures for its members and their guests.
–Ed Homsey, Club Historian (2004)+