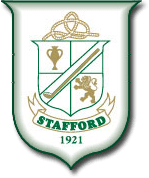 Welcome to Stafford Country Club. On behalf of the Board of Governors, the entire membership and our staff, we thank you for taking the time to learn more about Stafford Country Club.
The website has been designed to provide a quick overview of our facilities, services and the benefits of membership and will likely answer many of the questions you may have about the Club. We encourage you to take the time to look through each of the informational sections.
Stafford Country Club has a long standing tradition of providing a golf course for players of every skill level. The course can challenge the best of the area's best, while remaining approachable and relaxing for the leisure golfer. Regardless of your handicap, the quiet country setting allows all to enjoy a day on the links with little distraction.
As a full service country club, we offer social amenities for everyone. Whether you wish to drop in for an exceptional meal in our dining room overlooking the golf course; spend time with friends on the patio; relax poolside with the family; or play a quick set of pickleball on our clay courts, we have you covered. Our social and golf calendars have something for everyone to enjoy. There is no better way to become involved in the Club, than to join in and have fun!
Stafford's doors are open to all and we would like to accommodate your special event. Our club house can host a romantic country wedding reception, a small intimate get together or a meeting of old friends at a reunion. Our golf course can easily cater your fundraising outing or a business golf event.
We are available to answer any questions you may still have pertaining to our facilities or membership. We would be happy to arrange a visit to Stafford Country Club at your convenience.
"Stafford Country Club is where tradition and contemporary lifestyles meet."