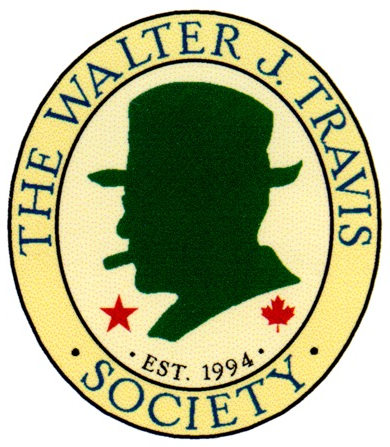 The Walter J. Travis Society, Inc, awards The Walter J. Travis Memorial Scholarship annually to recognize the remarkable accomplishments and contributions of Walter J. Travis in the game of golf.  In his pioneering career, he was a champion amateur golfer, esteemed golf course architect, innovative turf grass expert, and prolific golf journalist.  We encourage applicants to learn more about the man in whose honor this scholarship has been established.  Go to  www.travissociety.com or http://en.wikipedia.org/wiki/Walter_Travis
The Travis Memorial Scholarships will be awarded to students pursuing a career in one of the following professions:
landscape design/golf course architecture
golf course turf grass management/golf course superintendent
professional golf management, club professional
sports journalism with a special interest in golf
In addition, student golfers, with excellent records in competition, are invited to apply for our scholarships.  Applicants in the Amateur Golfer category are not restricted to any particular college program or career goal.
Applicants for The Walter J. Travis Memorial Scholarship must be entering or enrolled as a full-time undergraduate or graduate student, at an accredited two- or four-year college/university.
The following criteria will be used in the evaluation and judging of all applicants:
Academic record
Involvement in golf-related interests and activities
Career goals (Not applicable for amateur golfer applicants)
Extracurricular activities, including volunteer work with student/community organizations; participation in sports and community affairs; jobs held; special interests, and hobbies
Golf competition record, for those in the Amateur Golfer category.
Award:  A minimum of $1,000
Number of Awards:  Four, at-large, and One reserved for a student connected to a Travis Society Member Club.
Awards renewal:  Awards are renewable subject to re-application, including a letter of recommendation from at least one of the student's professors, and evidence of maintaining a 3.00 GPA, or higher.
Awards use:  This scholarship may be used for any educational expense.
Application procedures:  The application form is available at:   http://www.travissociety.com/college-scholarship/   Send fully completed applications to: Walter J. Travis Society, 24 Sandstone Drive, Rochester, NY 14616, or, via email, to [email protected]
Please call Scholarship Chairman, Ed Homsey, if you have any questions:  585-663-6120
APPLICATIONS FOR SCHOOL YEAR 2017-2018 MUST BE POST-MARKED NO LATER THAN JUNE 1, 2017